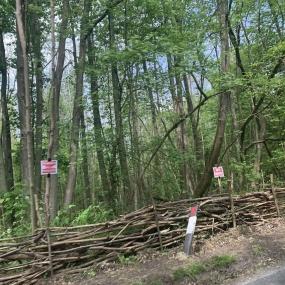 A Government planning inspector has declined to determine an appeal against the Council's decision to refuse planning permission at Fowlers Stone Wood, Vigo, saying the appeal is invalid.
In April 2021, the council refused the application for the site, where it had previously been granted an injunction preventing work including the felling of trees and development of land.
The landowner, Gareth Daniel Sullivan, was jailed for 12 months in October by the High Court, having accepted he was in breach of that injunction.
This week a Government inspector declined to determine Mr Sullivan's appeal against the council's refusal of permission for the siting of the mobile home and caravan, citing a number of reasons.
These included:
The fact it is not in dispute that the area of land already developed extends significantly beyond the area of the application site, nor that some of the land within the area is not owned solely by Mr Sullivan;
The site as developed is materially different from the proposed area and notice has not been served on those other interests in the land currently occupied beyond the red line area.
There is significant wider public interest in the application and appeal from local parties, and the proposal has been publicised inadvertently on the basis of information now found to be substantively incorrect.
In his written findings, the planning inspector added: "To be valid, a materially different proposal to that before me would need to be formulated and then progressed. To proceed otherwise would be both inappropriate and incur a risk of serious prejudice to interested parties."
He added: "I conclude the appeal to be invalid. The procedural shortcomings of the current submission are not readily capable of any reasonable remedy.
"I am therefore not in a position to progress matters and so proceed to consider the planning merits of the case. Accordingly, I decline to determine the appeal and propose to take no further action."
Welcoming the decision, Cllr Lauren Sullivan, Gravesham Borough Council's Cabinet Member for Strategic Environment, said: "I know the unlawful development at Fowlers Stone Wood has caused deep concern among local people, and want to assure them we continue to do everything in our power to resolve the situation once and for all.
"The planning and enforcement process can be lengthy and frustrating when an issue has occurred on your doorstep and directly affects you, but we have to be sure we follow the correct procedures and abide by the systems in place if we are to be successful in achieving the outcome everyone wants to see.
"I am grateful the inspector has recognised that Mr Sullivan's appeal is invalid.
"Our enforcement and legal officers continue to work to have the illegal development at Fowlers Stone Wood removed and the site restored to its natural state."

Find out about planning enforcement and how we deal with suspected breaches.