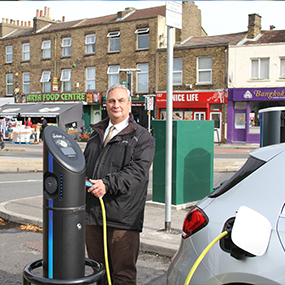 New electric vehicle charging points will be live in Parrock Street car park, Gravesend before the end of the year.
Preparatory work has been completed ahead of the installation of 10 dual fast charging points, with spaces to charge up to 20 vehicles at any one time. These are being funded through a grant of £107,764 from the Government's Office for Zero Emission Vehicles (OZEV).
The new Parrock Street chargers will add to the one dual 7kW charger and one ultrafast 50kW charger installed last year in the same car park and the one dual 7kW charger and one ultrafast 50kW charger in Milton Place car park.
Use of the bays will be free while charging, with a maximum stay of four hours between 8am and 6pm.
There will be no restrictions in place between 6pm and 8am, making the bays ideal for local residents who have no off-road parking and so who would find charging at home difficult.
The Parrock Street chargers are being installed in partnership with BP Pulse (BPP) and users will pay BPP directly for the electric usage.
The road at Parrock Street will be closed from 22 October for nine days while UK Power Networks makes the necessary connections to the National Grid.
Leader of Gravesham Borough Council, Cllr John Burden, said: "As we work towards becoming a net zero Borough by 2030, making it easier for residents and visitors to make the switch to electric vehicles is high on our list of priorities.
"Installing on-street charging points in Gravesend town centre is impossible in a lot of areas given the electrical grid infrastructure and the layout of the streets, so the Parrock Street bays are particularly important for residents.
"And we will be adding more charging points in the coming years. For example, the new public multi-storey car park being built as part of The Charter development in Gravesend will also have a number of charging bays.
"I hope the increasing availability of chargers in the Borough will prompt residents to seriously consider their options when it comes to choosing a new vehicle."
For details on electric vehicle charging points in Gravesham, visit https://www.gravesham.gov.uk/car-parks/electric-vehicle-charging