Business parks and development opportunities
Gravesham offers a range of both high quality and cost effective commercial property solutions, from small town centre and rural offices and managed workspace to large industrial units on modern, purpose built estates.
Rental values are significantly cheaper than Central London and other major South East and UK centres with quick access on the High Speed train network to London and EU markets and easy access to the M25 and wider UK motorway network.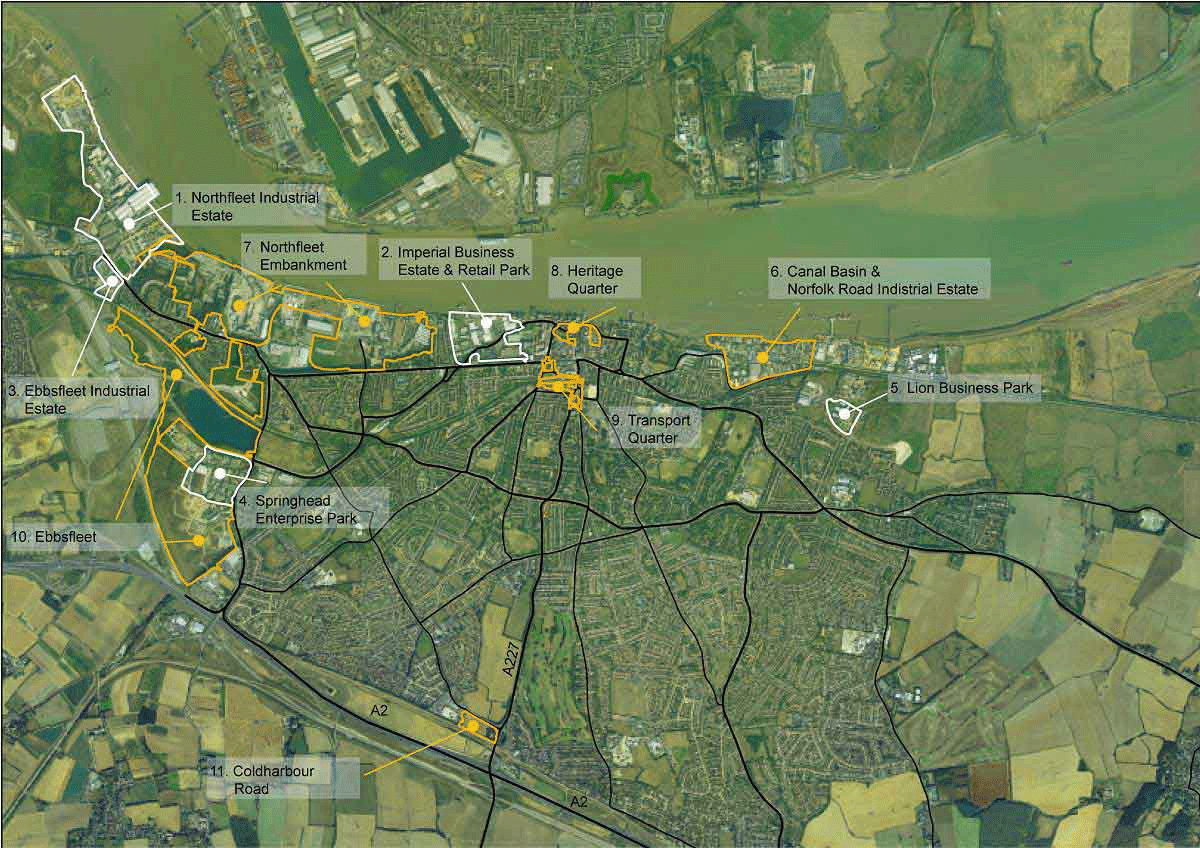 Key Business Parks
1. Northfleet Industrial Estate
This estate offers a range of industrial units between the A226 and the Thames. It is located close to large firms Seacon and Britannia Refined Metals (part of Glencore) and the proposed London Paramount Leisure Park.
2. Imperial Business Estate
Imperial combines both a retail and business park in a riverside location, only a short walk from Gravesend Town Centre. The retail park is home to household names such as Asda, B&Q, and Halfords, and the business park houses a range of businesses, from printers to clothes manufacturers.
3. Ebbsfleet Industrial Estate
Closely located to the new developments in the Ebbsfleet Valley and Ebbsfleet International Station and the Garden City, this estate is home to a variety of businesses and has excellent road links.
4. Springhead Enterprise Park
Springhead offers units from 75 mi² to 9,400 mi². The park is home to a variety of firms including Storefast Solutions, specialists in chilled, frozen and ambient food production and storage, Richo International and ophthalmic manufacturers Rodenstock (UK) Ltd.
5. Lion Business Park
Lion Business Park is the borough's most modern business park located to the east of Gravesend town centre providing a range of modern industrial, warehouse and two storey hi-tech units. With further phases for construction, Lion Business Park offers a range of unit sizes (from 150 mi² to 4,000 mi²) with the opportunity for units to be built to occupier's specification.
6. Norfolk Road Industrial Estate
Located to the east of Gravesend town centre, this estate accommodates a mix of firms with proximity to the river.
Regeneration and development
Central to Gravesham's growth plans will be the regeneration of Gravesend town centre and the River Thames waterfront.
6. Canal Basin
Outline planning permission has been granted for 650 residential units, new light industrial and leisure space as part of the regeneration of the town's Canal Basin and Thames Riverfront. This provides an unparalleled opportunity to create a new high quality riverside community, close to Gravesend's shopping, restaurants and bars and a 10-minute walk from HS1 services.
7. Northfleet Embankment East and West
With the closure of Lafarge's Northfleet cement works and other manufacturing industries, plans are emerging for the reworking of 87 hectares of Northfleet Riverside to support the continued competitiveness on site for existing concerns, such as Kimberly Clark, and new development that derives benefit from the twin advantages of deep water access and high speed rail connections via Ebbsfleet International Station.
Within this context the Homes and Community Agency (HCA) continues with its disposal strategy of Embankment East recently undertaking a soft market test seeking a private sector partner for a mixed use scheme of employment and housing, with a view to start construction on site in 2017.
Showing continued central government commitment to the area the Ebbsfleet Garden City Urban Development Company has been granted planning powers over Northfleet Embankments East and West. These powers have been put in place to assist is speeding up delivery on the ground, the East site is currently owned by the HCA.
The first site at Northfleet Embankment to be developed out has been a £40m 20,000 mi² Lidl distribution centre which opened in September 2014.
8. Gravesend Heritage Quarter
Regenerating Gravesend's Heritage Quarter is at the heart of the vision for Gravesend town centre.
In partnership with Gravesham Council, the REEF group have plans to bring forward a mixed-use development on sites to the east and west of the old High Street comprising new retail space, cinema and restaurant facilities, enhancements to St Georges Shopping Centre, a hotel, office space and homes creating new jobs, public spaces and community facilities.
Further information can be found on the Gravesend Town Centre Regeneration website.
A new pontoon on the river at Town Pier has, revitalised this historic gateway to the town and complementing the significant investment that has already taken place in the restoration of Gravesend's old High Street. The recent refurbishment of the Old Town Hall as a focus for community uses and function venue and the reopening of Town Pier, the oldest cast iron pier in the world, with its unique restaurant and bar commanding magnificent views of the river, strengthen the case for additional investment in this part of the town and its relationship with the river.
Aligned to the Heritage Quarter development is the recent £1.8 million investment scheme for the refurbishment of Gravesend's Borough Market. The funding provided by the Coastal Community Fund, has transformed the market into a thriving retail centre and creative hub. Open 6 days a week with new ideas being based on the Greenwich and Borough Market experience, including specialist themed market days. Visit the Gravesend Borough Market website for more information.
9. Transport Quarter for Gravesend
Gravesend's Transport Quarter is a major multi-million pound scheme to create a gateway and transport interchange that integrates the railway station with the town centre and bus/Fastrack services. It will also create improved access for cyclists and pedestrians, new public space and jobs.
The first phases of this scheme, incorporating changes to traffic flow in the town centre and a new Civic Square and a £19m upgrade to Gravesend Railway Station with extra platforms, lifts, footbridge and step free access to platforms to enable 12-car High Speed 1 trains have been completed. A further phase to realign the town's ring road allowing pedestrian friendly space, reconnecting the railway station to the town centre has received a boost of £4.3 million from the Government's Local Growth Fund.
The realignment of the traffic flow will free up road space to enable the creation of a transport interchange which will integrate public transport services, improving access to the town centre.
10. Ebbsfleet Garden City
In March 2014's Budget, the Government announced ambitious plans to create a new garden city for the 21st Century at Ebbsfleet, capable of providing up to 15,000 new homes based predominantly on existing brownfield land. The announcement came with Government support of up to £200 million investment in infrastructure and delivery led by a dedicated new development corporation.
Ebbsfleet Valley comprises a 260 hectare site between Ebbsfleet International station and Bluewater Shopping Centre, and straddles the boundary between the boroughs of Gravesham and Dartford with component sites in each area, for example Springhead Park in Gravesham. The early phases of development at Springhead Park (over 200 homes) are complete, with capacity for around 700 more homes (plus business space) in later phases. You can read more about this on the Ebbsfleet Development Corporation website.
11. Coldharbour Road
With excellent access to the Gravesend Central junction of the A2 and international and domestic High Speed train services at Ebbsfleet and Gravesend, Capital Space Limited have aspirations to develop an Enterprise Centre with a range of offices, studios and industrial units totalling (4,600 mi²) 50,000 ft². The facility will provide space for people to start and to grow their businesses and will be the ninth centre to be run by Capital Space.
Next to and complementing the employment site, a new restaurant is already operational and planning consent has been granted for a 60 bedroom hotel.
(New) London Paramount Leisure Park
Adjoining Ebbsfleet and strategically placed to exploit the potential of Ebbsfleet International station is the 353 hectare Swanscombe Peninsula.
London Resort Company Holdings (LRCH) is bringing forward plans for a world-class entertainment resort on the Swanscombe Peninsula which will be licensed by Paramount Pictures. In May 2014 the Government confirmed that the London Paramount Entertainment Resort will be the first 'Business or Commercial Project' to be considered a Nationally Significant Infrastructure Project (NSIP).
The resort will include an entertainment street, water-park, theme park, events space, sporting facilities, creative space, service buildings and staff training academy, as well as about 5,000 hotel rooms alongside a wealth of improvements to the transport infrastructure including a monorail linking Ebbsfleet International Station. The estimated investment value of the project is £3.2 billion and could generate 27,000 jobs.