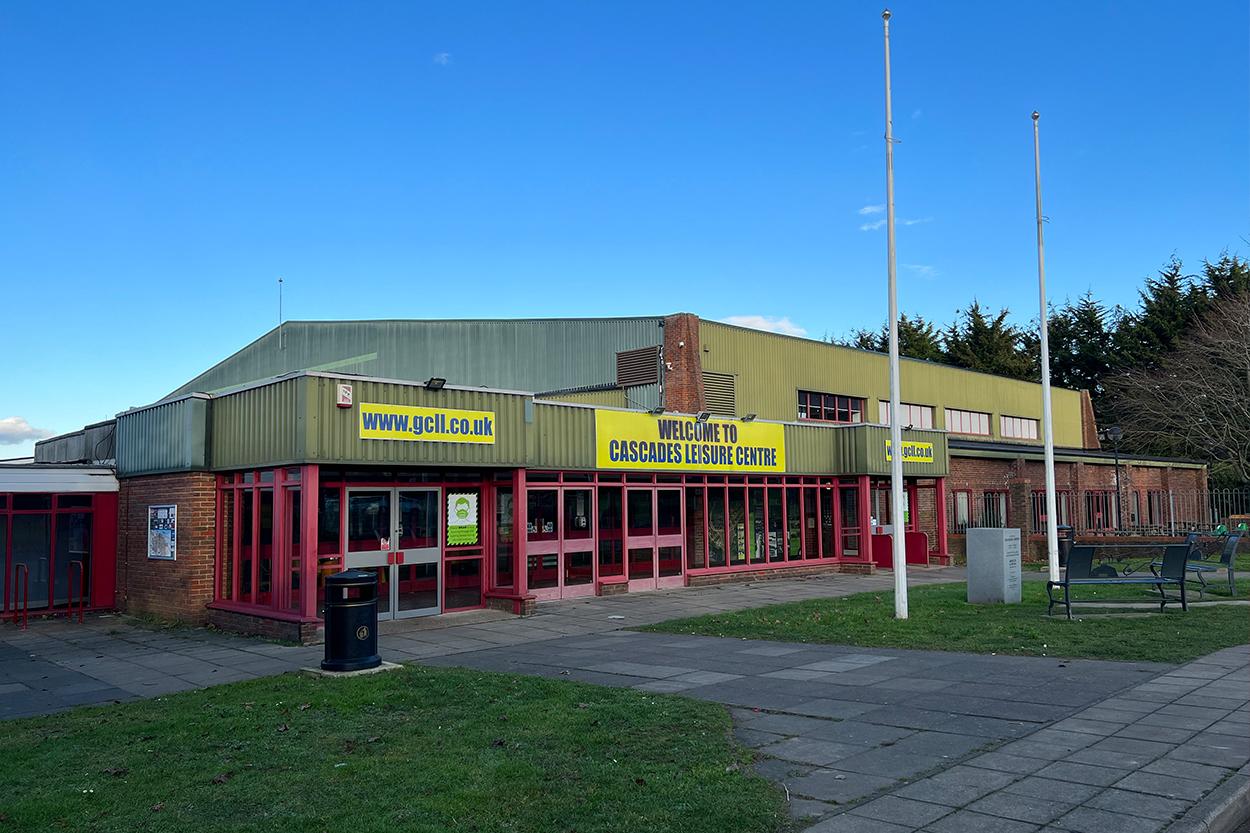 Gravesham Borough Council is working on plans for the replacement of Cascades Leisure Centre in Gravesend.
At its meeting on Monday evening (31 January), members of Cabinet agreed officers should begin the process which will lead to the building of a new leisure centre on the existing car park at the Cascades site.
The current centre will remain open during the construction period, and will be demolished once the new centre has opened, expected to be in 2024.
On Monday evening, Cabinet considered a feasibility study conducted by external consultants, which concluded that both the Borough's leisure centres – Cascades and Cygnets – are ageing and have issues in respect of their build quality and do not provide modern, flexible leisure facilities to the local community.
The report also found there was a lack of a 6-8 lane swimming pool in the Borough at a time when demand for swimming lessons was returning strongly following the Covid-19 pandemic. It also found a reasonably strong demand had returned for sports hall and health and fitness provision, and there was a clear gap in the local market for soft play areas.
Explaining the decision to commission a new leisure centre, Cllr John Burden, Leader of Gravesham Borough Council, said: "In recent years we have invested in modern gym equipment and refurbishing areas of Cascades such as the dry side changing rooms.
"However, there is no escaping the fact that the actual fabric of the building is now at the end of its natural life. A condition survey carried out in 2019 found almost £500,000 of work was needed over the next two years, work described as critical to the continued operation of the centre.
"Added to that, there will be a need for further major capital investment over the next five to 10 years to replace plant and machinery.
"And that is all before we even begin to consider the scale of the work required to address changes needed to help us achieve our goal of becoming a net zero Borough by 2030. Given the buildings are more than 30 years old, those works are likely to be extensive and expensive."
Cllr Burden added the layout of the centre also had to be taken into consideration which, because of the way it was developed in phases, was far from ideal and didn't lend itself to major refurbishment and remodelling, the cost of which in itself would run into the tens of millions of pounds.
Work already identified includes an extensive overhaul of the water flumes; ageing poolside changing areas that require substantial work which would see them closed for a substantial period of time; and the complete replacement of the main pool plant.
He went on: "While it will, of course, cost more to build a new leisure centre, the feasibility study is clear that this should be balanced against the significant benefits starting with a blank sheet of paper will bring in terms of designing a more modern and rationally designed building, with the greater capacity for generating income that will bring."
Cabinet's decision on Monday evening gives officers the authority, in consultation with the Leader of the council, to take all necessary practical, financial and legal actions required to deliver the leisure centre within agreed budgets.
Cllr Shane Mochrie-Cox, Gravesham Borough Council's Cabinet Member for Community and Leisure, said the ambition was the new Cascades would be a leisure centre boasting regional facilities, particularly the new 6-8 lane swimming pool.
But equally, it would include accommodation for partner organisations such as the NHS to provide health and well-being centres for local people.
Cllr Mochrie-Cox said: "This is not just about providing a top-line, regional leisure centre for the enjoyment of local people.
"As a council we are committed to addressing the very real health inequalities in our Borough. There are many strands to doing that, including making quality health and leisure facilities widely available and affordable, and working with partners to support and safeguard vulnerable residents by being proactive in addressing healthy living issues that might be affecting them.
"All of these things will be possible from a new, purpose built and carefully designed leisure centre.
"I am extremely excited at the prospect of a new, modern, climate change friendly leisure centre for this Borough."