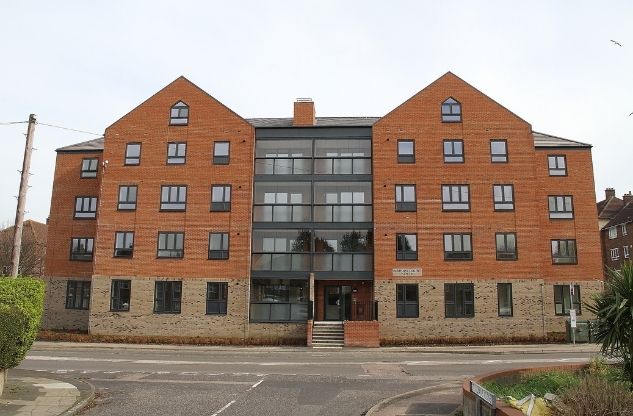 The latest development in Gravesham Borough Council's programme of building hundreds of new council-owned homes has been opened.
Bishop's Court at St Patrick's Gardens, Gravesend, is made up of 23 new homes, most of which have been allocated to existing council tenants identified as having a housing need. The remainder will be made available to people on the council's housing register.
Designed by architect's BPTW and built by Westridge Construction, Bishop's Court includes a family-friendly community space and a play area to be enjoyed both by children of residents of the new development and those who live in existing homes in the area.
Each of the new homes has a winter garden rather than a traditional open balcony, which not only can be used on more days of the year but also acts as a buffer zone between the outside temperature and the inside of the home and helps with noise reduction.
In addition to a cycle storage room and car parking for the new development, Gravesham Borough Council has created an additional 25 car parking spaces for residents of St Patrick's Gardens.
Bishop's Court was opened by Cllr Jenny Wallace, Gravesham Borough Council's Cabinet Member for Housing Services, who said: "Providing high quality, environmentally sound social housing for local people who need homes the most is of the highest priority to us as a council.
"Bishop's Court is just the latest project in that programme, and we have many more in the pipeline. Later this year we will welcome people to further developments of council-owned homes at Constable Road and at Valley Drive.
"Last year we updated our housing allocations policy to ensure our homes are going to those local people who need them the most.
"The families moving onto Bishop's Court are largely in homes that are not suitable for their needs but which, after we have spent a short time refurbishing them, will be ideal for others on our housing register.
"I hope they will all be happy in their new homes."
Valentina, 35, who has moved in to a two-bed apartment at Bishop's Court said: "We were living nearby in a small flat with one bedroom and are so happy to be able to have the opportunity to move into this lovely new place.
"It's such a perfect apartment with lots of room, and my little one loves his own room.
"He has already been using the play park too, it's brilliant."