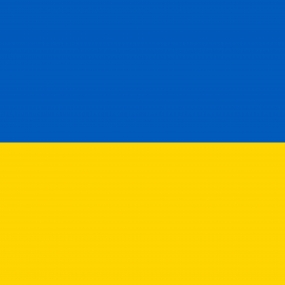 Read the Leader's statement about the Russian attack on Ukraine and our support for the people of Ukraine.
The Leader of Gravesham Borough Council, Cllr John Burden, has joined community leaders from across Europe and the rest of the UK in signing a joint statement condemning the Russian attack on Ukraine and offering full support for and solidarity with the Ukrainian people.
The clock tower and St Andrew's arts centre in Gravesend are also being lit in the colours of the Ukrainian national flag in a show of support for the people of the country.
"We have all seen the pictures and footage of the terrible events in Ukraine of the last few days," said Cllr Burden. "We stand with the people of Ukraine in their resistance against the unwarranted invasion of their country and the terrible violence being unleashed on them and their homes.
"I know I speak on behalf of the many varied communities who now call Gravesend their home, including those who have roots and family in the east of Europe, in condemning the actions of Russia and in calling for an immediate end to this unnecessary war."
Cllr Burden has added his signature to a statement from the Council of European Municipalities and Regions (CEMR) which strongly condemns the multiple attacks and violations of the territorial integrity and sovereignty of Ukraine.
The statement adds: "The escalation of violence, repeated bombings and attacks on Ukrainian cities and territories are a serious threat to the preservation of peace and democracy across Europe.
"We call on the Federation of Russia to cease its attack, to leave the national territory of Ukraine, to respect all international treaties and fundamental principles of international law and to recognise the full sovereignty of Ukraine over all its territories, including Donbas and Crimea.
"Firmly convinced of local democracy and city diplomacy, based on the values of peace that unite our municipalities across Europe since 1951, we stand by the Ukrainian municipalities, cities, hromadas, districts, raions and their representative associations."
Support and advice
We are currently waiting on Government guidance as to how they would like local councils to help in any resettlement effort of Ukrainian refugees.
In the meantime, we are encouraging residents who wish to help the people of Ukraine to support the following appeals and charities.
There are very many smaller charities at home and abroad supporting the people of Ukraine. Residents are encouraged to research organisations and satisfy yourself that they are doing what they say they are before donating.