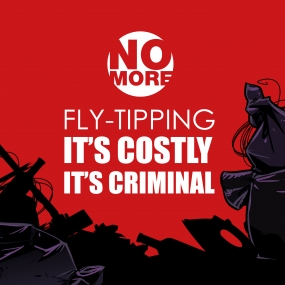 Gravesend resident was found guilty of failing to provide documentation relating to an alleged fly-tipping offence.
On 3 March 2022 at Sevenoaks Magistrates Court, Renee Babayemi, a 38 year old female from St Francis Avenue, Gravesend, was found guilty of failing to provide documentation relating to an alleged fly-tipping offence at The Hive, Northfleet.
Around a hundred boxes and other household waste was found fly-tipped beside residential properties. An investigation by Gravesham Borough Council's Environmental Enforcement Team identified Babayemi as being involved.
She failed to cooperate with the investigation or provide documentation to officers when required to do so.
She also failed to attend the hearing and was found guilty in her absence.
She was fined £500 and required to pay costs of £257.30. A total penalty of £757.30.
Cllr Shane Mochrie-Cox, Gravesham Borough Council's Cabinet Member for Community and Leisure said: "We will not tolerate fly-tipping in Gravesham and will continue to catch, fine and take action against those that fly tip and dump their rubbish in our borough.
"Please report it to us if you see rubbish dumped in your area and we will investigate it and make sure that those responsible are held accountable."
You can report fly-tipping in Gravesham.
To report sightings or details of a vehicle or individuals you have witnessed fly-tipping, please email Tipoff@gravesham.gov.uk
If a person or a business has rubbish to dispose of it is the individual's or the business's responsibility to get rid of that rubbish and waste properly. Sometimes unlawful traders take rubbish for a small fee and then just dump it.
Only businesses that are registered to carry waste can take away rubbish. Anyone that is visited by a door-to-door rubbish collector or who chooses to use a trader should ask if they are a registered waste carrier and ask for their waste carrier number.
Make sure the trader is registered or both the trader and the person whose rubbish it is will face a fine if it is dumped illegally.
You can do a check on the Environment Agency website to see if the trader is registered. If they're not, you should find other ways to get rid of your rubbish.