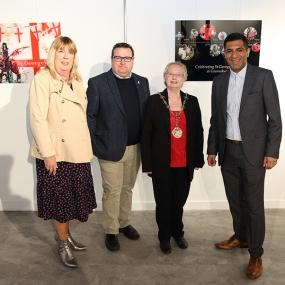 An exhibition celebrating Gravesham's St George's Day parade has opened in the town, ahead of the return of the celebrations this month.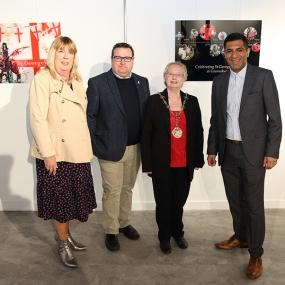 Staged by Gravesham Borough Council and Cohesion Plus, the parade has brought together thousands of the Borough's schoolchildren in celebration of St George's Day since 2008.
After a two-year absence due to Covid-19 restrictions, the celebration returns to Gravesend town centre this year on Friday 22 April.
An exhibition of photographs capturing some iconic images from previous events has opened at Gravesend's St George's Arts Centre with a visit from the mayor of Gravesham, Cllr Lyn Milner.
Cllr Shane Mochrie-Cox, Gravesham Borough Council's Cabinet Member for Community and Leisure said: "We are justly proud of the Borough's St George's Day celebrations.
"We have an incredibly diverse community, celebrating many different events of importance to many different cultures. Our St George's parade brings together the youngest members of those communities to celebrate as one and helps develop a sense of togetherness and cohesion among those from a myriad of backgrounds."
He added that while at one time Gravesham was the only area in Kent to celebrate St George's Day in this way, its success had lead many other councils to follow its lead.
Gurvinder Sandher of Cohesion Plus, the St George's Day festival producer, said: "I am so proud of what we have achieved with our celebrations.
"I never envisaged all those years ago that they would grow and develop as they have to become one of the highlights of the local calendar.
"I passionately believe that this is a great example of how we can use the arts to bring communities together and celebrate all that binds us together."
As well as the photographic exhibition, St George's Arts Centre is also hosting a workshop with Hysterical History on 14 April at 11am, and a session for youngsters to help decorate a dragon for this year's parade at 11am on 15 April.
All three events are free.