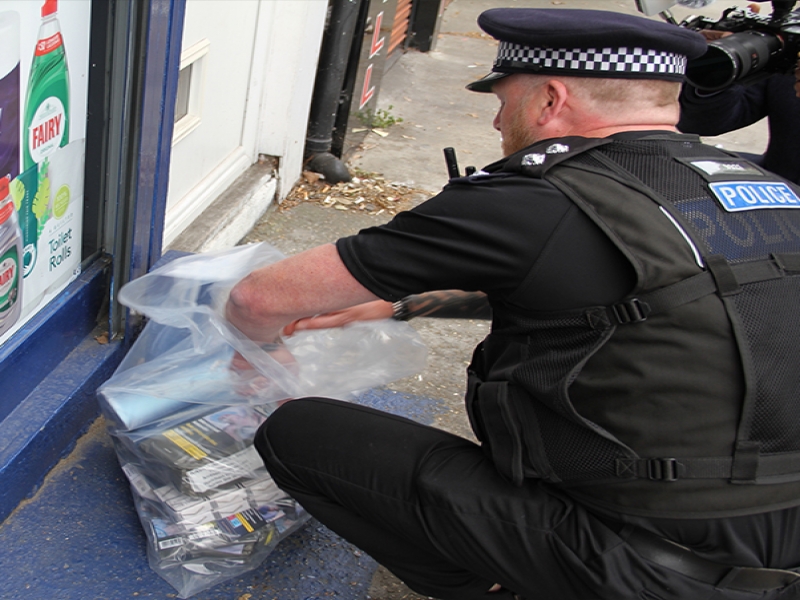 Magistrates have ordered the closure of eight Gravesend shops involved in the sale of illegal tobacco following an operation led by ourselves earlier this week.
On Wednesday (27 April) we served closure notices under the Anti-Social Behaviour, Crime and Policing Act 2014 on:
Monika's International, Queen Street, Gravesend
Baltic Groceries, Queen Street, Gravesend
Milton Road Mini Mart, Milton Road, Gravesend
Mila Groceries, Milton Road, Gravesend
Milano Grocery, Milton Road, Gravesend
5* Eastern European Mini Supermarket, Parrock Street, Gravesend
New Road Groceries, New Road, Gravesend
Smart Mini Mart, Pelham Road South, Gravesend
This morning (Friday) Sevenoaks magistrates issued three-month closure orders on all eight stores having reviewed evidence of activity related to the sale of illegal tobacco products gathered by the partner agencies over several months.
The decision was welcomed by Cllr Shane Mochrie-Cox, Gravesham Borough Council's Cabinet Member for Community and Leisure, who said: "I would like to thank the courts for supporting the efforts of ourselves and our partners to disrupt this illegal trade in Gravesend.
"We will not tolerate any activity that puts the health and well-being of our residents at risk and which threatens the financial viability of the very many law-abiding businesses in the Borough.
"Today's decision should send a very strong warning to anyone looking to make profit from illegal trading that the courts will support us when we take action. And be assured, together with our partner agencies we will take action to disrupt such activities where we have evidence that it is taking place.
"We are determined to use all the enforcement powers at our disposal to tackle anti-social behaviour, fly-tipping and other illegal activities in the Borough and we will be taking cases to the courts and asking them to take the strongest possible action to support us in our efforts."