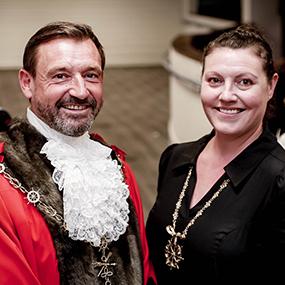 Cllr Peter Scollard is the new Mayor of Gravesham for 2022/23.
Cllr Peter Scollard is the new Mayor of Gravesham for 2022/23 after being appointed at the Annual Meeting of Gravesham Borough Council at The Woodville on Tuesday 17 May 2022.
Cllr Scollard, who has been a councillor for Northfleet North Ward since 2015, announced that Julie Easy will be his Mayoress for the year. Cllr John Caller was appointed as Deputy Mayor.
In his installation speech, Cllr Scollard thanked outgoing Mayor Cllr Lyn Milner for her leading role in helping the Borough emerge from Covid restrictions and return to a more normal life, saying she would be a hard act to follow.
Born in Barking and raised in Romford, as a young boy Cllr Scollard helped out on the family fruit and veg stall at Romford market where he said he quickly learned the importance of community.
After leaving school he worked as a commis chef at a stately home.
He told councillors and guests: "At first they didn't want me as I was too short to reach the pots and pans on the shelves, but my mum, who is here tonight, phoned and convinced them I was a hard worker."
He went on to become head chef at Barking Town Hall where he cooked for the mayor. Nine years of working and travelling abroad followed, before he settled in Northfleet. He has two children, Ethan and Jorja.
In 2011 Cllr Scollard became part of Northfleet Big Local that received funding to run resident-led projects to improve the community, and then started the Seven Avenues Residents' Association, putting on events to bring residents together and raising funds to create a new park for local children in Huntley Avenue.
In 2012 he founded the No Walls Gardens CIC aimed at working with ex-offenders, the long-term unemployed and adults with learning difficulties on gardening and greening projects to bring back pride to a deprived urban area, as well as providing free fruit and veg for residents, and creating two new community gardens.
Accepting the role of Mayor, Cllr Scollard said: "In 2015 I became a councillor for Northfleet North ward where No Walls is based, and have gained a much greater understanding of the issues affecting the whole Borough.
"Covid-19 and now the current energy crisis have hit many people hard and the pressures of day-to-day life are increasing.
"As your Mayor and with the support of my Mayoress, I would like to continue the great work Cllr Lyn Milner has done this past year and support local groups and organisations in encouraging people to get outside, enjoy their community and come together to celebrate its achievements.
"I hope to raise awareness of those organisations that work with the most vulnerable and promote well-being for our residents."
To that end, the Mayor's charities for the year are Ellenor, Age UK North West Kent, and Home-Start.
Cllr Scollard concluded: "It is an immense honour to be here tonight as your Mayor, and a long way from the Romford market boy considered too small to work in a kitchen.
"I hope I do you proud."