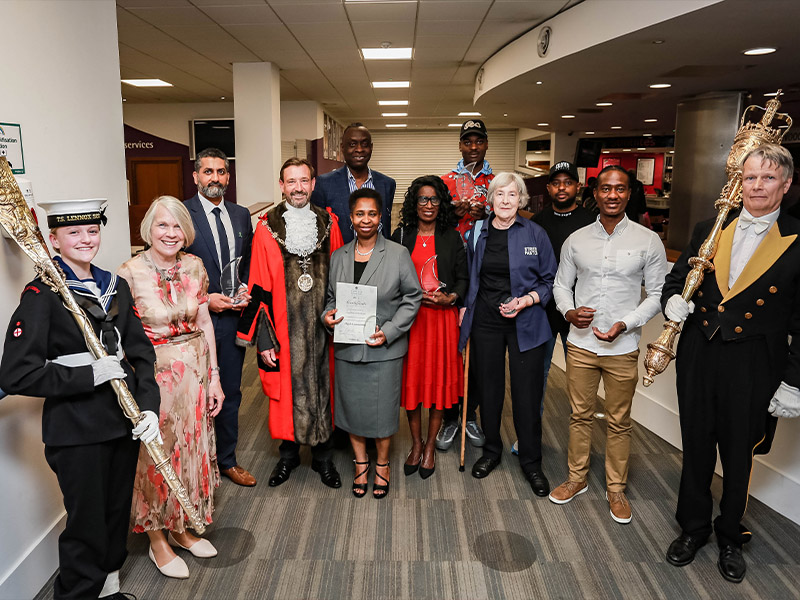 Gravesham Borough Council has highlighted and honoured the work of those who go above and beyond for the local community at its Civic and Community Awards 2022.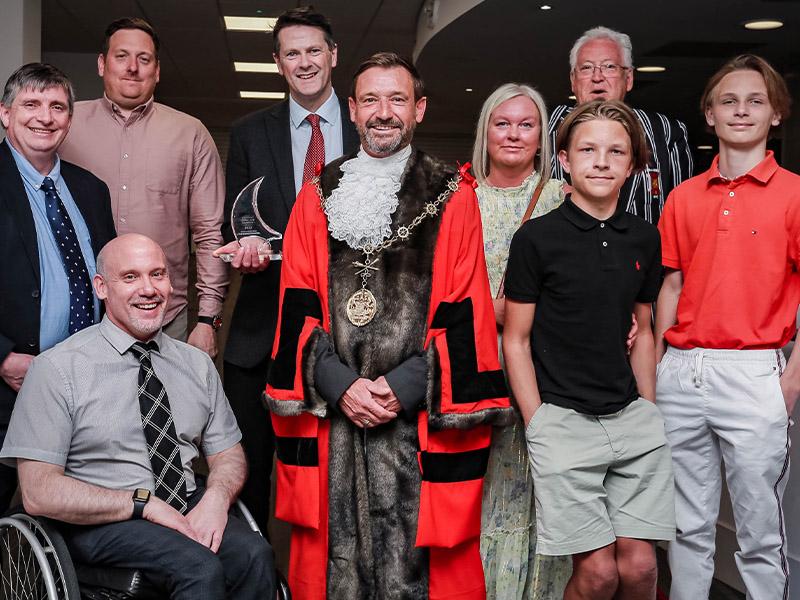 Held as part of the Annual Council meeting on Tuesday 17 May, the evening opened with Chief Executive of the Council, Stuart Bobby, paying tribute to Marilyn Keating, who unexpectedly passed away at the beginning of the month.
Stuart said: "Marilyn had been the Chief Executive for CVS (Council for Voluntary Services) North West Kent and her unstinting support for our local community organisations and initiatives had a huge impact on community life in the borough.
"This has included sitting on the Community Awards judging panel, and she herself was justly recognised with an award for Outstanding Services to the community in 2014.
"Marilyn you will be sorely missed but never forgotten."
The Community and Civic Awards were presented by the outgoing Mayor of Gravesham, Cllr Lyn Milner.
The winners
Linda Rush, a regular volunteer at Ellenor Hospice where she organises walk and talk sessions for those experiencing bereavement. She also helps with the local cadet force and regularly supports local litter picking events.
During the pandemic, Linda volunteered at the Gurdwara, preparing and packing food and was a regular volunteer at The Woodville vaccination centre.
Most recently, she has volunteered at a local centre collecting for the Ukraine appeal.
Claudette Bramble, who came to Gravesend from Antigua and Barbuda in 1968 aged 13 and has devoted her life to supporting the community of Gravesend.
Claudette became chair of Gravesend West Indian Association in 1985. Through the 1980s she was an active member of the Community Relations Association and sat on the committee of Gravesham's Citizens Advice Bureau.
From 1990-94 she was Chair of the Police Liaison Committee, involved in racial awareness training of new recruits and supporting communication between Kent Police and Gravesend's Caribbean community.
She was also on the committee of Gravesend Churches Housing Association from 1990-2010.
In 1992 Claudette became Kent's first black female magistrate, a position she still proudly fulfils on a regular basis.
In 2015 she helped start the North Kent Caribbean Network which provides social and educational activities for elderly members of the community.
During the Pandemic she helped co-ordinate a rota of volunteers to help with meals, shopping, collecting prescriptions and making health appointments.
Gurjit Shokar recently experienced the loss of his brother to suicide and has chosen to use the experience to raise awareness of mental health and suicide within the local community, in particular with the Asian community.
He has delivered talks and events to the congregation at the Gurdwara, young members of the Punjab United football club, and at a conference at The Woodville, reaching people from a broad range of backgrounds and ages.
He volunteers at the Grand and works closely with the Gurdwara and local GP, Dr Manpinder Sahota.
He is passionate about the subject and volunteers all his spare time to support where he can, while still coming to terms with his own grief.
GTown Talents provide young people with an opportunity to develop their creative talents and a platform for performing.
They have helped many young people from the borough channel their energy and creativity in supporting the local community and local charities.
Lived experiences around suicide and mental health have inspired performances in music, film and drama, providing hope and building self-belief.
They have been working with local domestic abuse charity Oasis to produce a short film on domestic violence and have also worked with the ellenor Lions Hospice on a rendition of Silent Night to raise funds.
GTown has provided a positive platform for young people in Gravesham to come together and channel their emotions and ideas creatively to help raise awareness of sensitive topics amongst other young people such as domestic abuse, grief and loss while raising the profile of the borough.
The Mayor's Special Award was made to Gravesend Dynamite, a wheelchair rugby group formed by Jason Owen in September 2013.
It is an inclusive sports club open to all and welcoming participation from men, women, young people and children, able-bodied and disabled, helping them compete on a level playing field.
The club focuses on wheelchair Rugby League, but also plays wheelchair rugby 7s and was the first club in the UK to introduce wheelchair American Football, helping to form the first ever version of the sport with the national governing body.
They have provided taster sessions to over 4,000 young people from schools and youth groups, delivering fun and healthy sessions while also changing perceptions of disability.
They have also placed wheelchairs in several local schools for them to use within their curriculum. Tymberwood Academy is a designated school for children with a physical impairment and currently has 16 chairs on free loan.
They have provided opportunities for sisters and brothers, best friends, neighbours, mothers and sons, other family members and many others, some with disabilities, some without, to re-connect through an inclusive sports club, while others have attended the club alone but made new friends.
Though initially set up as a social sports club to give opportunities to people from the borough, some of their members have represented their country at wheelchair rugby league and/ or wheelchair rugby 7s, including matches in Italy and France.
The club has won the National Trophy twice against prestigious teams from the Rugby League heartlands of Warrington and Hull.
This year saw the introduction of a Highly Commended category to recognise those nominations that were considered worthy of a special mention and inclusion in the ceremony.
Those featured were: Gravesham Foodbank, Gravesend Methodist Church – Daytime Hub, George Duffort from Istead Rise, Priscilla McBean, and Lenny Hwami.
Speaking after the ceremony, Cllr Shane Mochrie-Cox, Gravesham Borough Council's Cabinet Member for Community and Leisure, said: "Our awards recognise all that is good about our borough.
"Just listening to why our recipients were nominated this year highlights just how freely so many people give their time to help bring our communities together and work to ensure everyone, regardless of gender, race, faith or ability, feels included and part of Gravesham.
"It was fantastic that for the first time since the pandemic the whole council was able to come together to pay tribute to those who do only good things for the borough.
"Congratulations to them all."