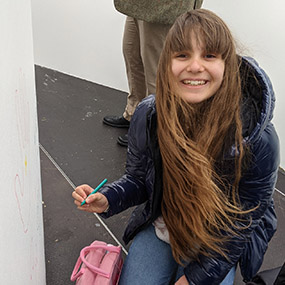 Gravesend's Vivien Farkas-Haholt, 16, has co-hosted the online launch event for a children's safety kit, at which Prince Harry, Duke of Sussex was a key speaker.
The global event hosted by 5Rights Foundation and End Violence Partnership launched a new set of ready-made policies that governments and organisations around the world can adopt to protect children online.
Other speakers included youth advocates from around the world, and representatives from the United Nations, African Union and European Union.
5Rights Foundation invited Vivien to be one of the youth advocates because of the work she has done with them through Gifted Young Gravesham (GYG).
Vivien, who lives and goes to school in Gravesend, spoke to Prince Harry at the online launch alongside young people from South Africa, Canada and Brazil and Malaysia.
Jackie Coupar, Youth Work Manager for GYG said, "We can't tell you how thrilled we are for Vivien and for GYG young people who always give so much of their time and energy to different projects both locally, nationally and internationally.
"We have known Vivien since she was just 11, and to see her grow into a confident young woman who has now been chosen to speak with Prince Harry is just brilliant.
"There are so many incredible young people locally and we are pleased to be able to support so many and provide them with opportunities like this."
5Rights has been campaigning for online policies to change to protect the rights of young people for some years. GYG has worked with 5Rights at several events on the subject, including interviewing businesses and representatives from the UN about youth rights online.
In 2019 another GYG young person, Mason Rickard, was invited by 5Rights to speak at the UN's international conference about regulating the internet on the subject of protecting young people online.
Vivien has taken an active role in GYG projects and last year was part of a youth media project with Estuary Festival, where she spoke to the artist Bob and Roberta Smith.
GYG is Gravesham's youth service and has been running in the borough for 12 years.
They provide free workshops in all kinds of areas from singing to environmental studies, services such as free mental health counselling, run youth campaigns and provide support for young people aged between 8 and 19 years (up to 25 with additional needs) from youth specialists.