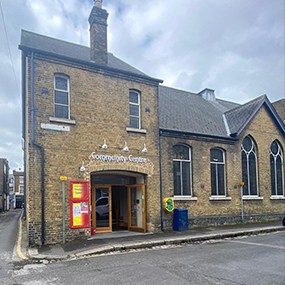 Gravesham Borough Council has been awarded £10,000 of grant funding for Gravesend Methodist Church & Community Centre to help support its work with rough sleepers.
The South East Consortium has awarded £10,000 to the council which will be used to help fund for the Daytime Hub at Gravesend Methodist Church.
Gravesend Methodist Church works with the council's rough sleeping team to support those who are currently unhoused and the Daytime Hub provides a cooked breakfast, showers, laundry, a food bank, and help with paperwork for those in need.
Vicki Clarke, Community Centre Manager, said "This grant allows me to continue the great work we are doing. It is vital we keep a high standard of professionalism to ensure all safeguarding is adhered to and clients are kept safe.
"It is also important to have consistency with our staff to help gain trust with clients and ensure we can monitor if their mental health deteriorates or their personal appearance. This can only be achieved by having consistency and professionals employed long term.
"Volunteers are unable to commit to working here on a long term basis and so paid staff is necessary. We still rely on volunteers for other areas of the work we do and by having a mixture of paid and voluntary staff we are able to achieve great outcomes for our service users.
"I would like to thank the Gravesham Borough Council and SEC for acknowledging the great work we do and helping us to maximise our clients' potential with the grant from SEC. Partnership working is the key to success."
The hub currently supports 22 to 34 guests and requires multi-agency support, such as Porchlight, Serveco, and CGL.
The grant from South East Consortium ensures that the help and support offered by the Daytime Hub continues as demand increases.
Cllr Jenny Wallace, Gravesham Borough Council's Cabinet Member for Housing Services, said: "We are so grateful to all partners who work with us in supporting rough sleepers.
"The Daytime hub at Gravesend Methodist Church is a beacon of light for those in need and provides food and drink, warmth and companionship for those who need it the most.
"We are thankful to the South East Consortium for the funding which we are pleased to be able to pass onto the wonderful team at the church."