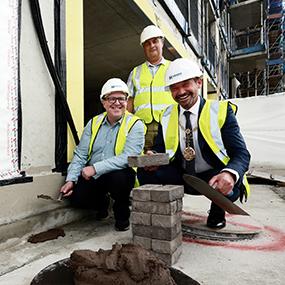 The Mayor of Gravesham, Cllr Peter Scollard, has laid a ceremonial first brick at The Charter development in Gravesend.
The Charter will see the creation of 242 apartments which will be available to rent, along with a public multi-storey car park, and is being developed by Rosherville, Gravesham Borough Council's commercial trading company whose Chair, Cllr Lenny Rolles, also attended the event, along with the Leader of the council, Cllr John Burden.
Laying the ceremonial brick, Cllr Scollard said: "Traditionally, civic dignitaries were invited to lay the foundation stones of significant buildings.
"Modern building techniques mean that tradition is no longer really observed, but it is what we are recreating today at what is a significant development for the future of Gravesend."
Work on The Charter is continuing at pace, with show apartments due to be opening early next year.
Cllr Lenny Rolles said:
"These apartments in the heart of our town will be available at rents that are affordable for the many – including those on the council's Housing Register.
"The future of our town centre depends on people living, working, and socialising here. The Charter and its new residents, when combined with our plans for St George's Square on the opposite side of the High Street, will help breathe new life into the town."
Phil Duckworth, Design Director at Reef Group who are Rosherville's development partners for The Charter, said: "This is a significant and exciting milestone for the development.
"On behalf of Reef Group, it's been fantastic working with Gravesham Borough Council to help deliver these new homes in Gravesend, which has been part of our wider, strategic town centre regeneration proposals.
"We continue at a great pace, and to see The Charter at this stage reflects the hard work of all involved."
Cllr John Burden, Leader of Gravesham Borough Council, said: "We must not underestimate the importance of The Charter for the future of our borough.
"Town centres have changed forever. Online shopping and the demise of major national retailers have sparked a change in what the High Street is and needs to be across the country.
"I have seen some comments from a few local people who are resistant to the changes needed for the town centre to recover. However, I feel we owe a duty to most of our residents and traders to bring new investment into our town.
"To survive and thrive a town centre needs to adapt and change to match the needs of the time. This development is part of that change, bringing much needed local affordable housing, while the larger development as referred to by Cllr Rolles will bring a new theatre, retail, and community space to breathe life into this part of town.
"We are not alone here in Gravesham in recognising this change in retail use and what needs to happen to create the Gravesend of the future.
"The Charter is the first, important stage in that process."