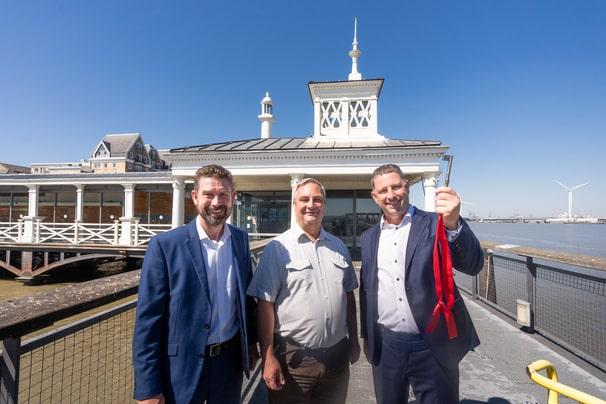 We welcome Gravesend Thames Clippers, the new owners of Town Pier.
Uber Boat by Thames Clippers has today completed the purchase of the world's oldest surviving cast iron pier, Gravesend Town Pier.
The 39-metre-long pier, located in Gravesend, Kent, will allow Uber Boat by Thames Clippers to continue to expand the River Bus service further east and help support the growth of the Thames Estuary.
The eastward expansion has already started, with select central London sailings from Gravesend and Tilbury running since 2021 and with the opening of Barking Riverside Pier in spring 2022. Whilst the award-winning Uber Boat by Thames Clippers plans to establish a long-term River Bus service from Gravesend in the next 2-3 years, they also plan to operate more leisure sailings in the interim, further enabling as many residents as possible to enjoy the benefits of travelling by river.
Sean Collins, co-founder and CEO at Uber Boat by Thames Clippers, said:
"We are thrilled to take ownership of this historic pier from Gravesham Council. We will continue to appreciate its significance to the local community and will be investing in that community. We currently serve 24 other piers in the capital, five of which we own, manage and maintain ourselves. It is vitally important to us to maintain their heritage and make the Piers sustainable for the future, ensuring the local communities can benefit from the river transport links that they provide."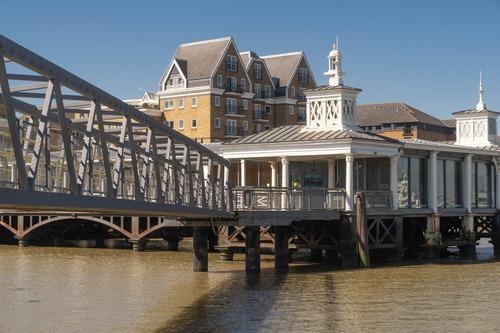 Cllr John Burden, the Leader of Gravesham Borough Council, said: "I cannot think of better custodians to pass Town Pier on to; an established river operator with a track record of owning and operating piers along the Thames and whose plans for the future will help reconnect our town with the river that is so important to it.
"The sale guarantees continued public access to the pier and the future of the Tilbury Ferry. It also means the money needed to maintain the world's oldest cast iron pier can now be redirected to support the essential services our residents and businesses expect and deserve."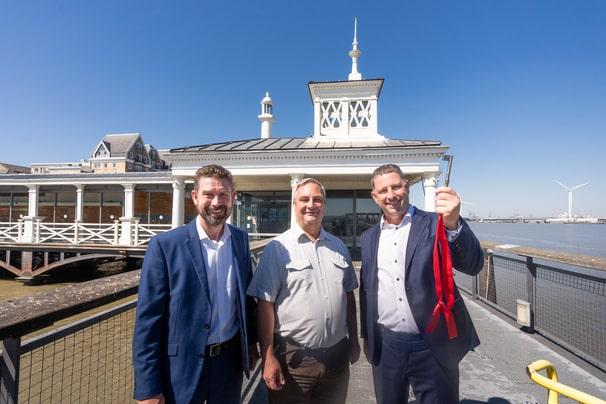 Nick Brown, Deputy Chief Executive Gravesham Council; Cllr John Burden, Leader of Gravesham Council and Sean Collins, CEO and co-founder Uber Boat by Thames Clippers.
Further to the acquisition of Gravesend Pier, Uber Boat by Thames Clippers' senior leadership team will be hosting a Q&A session on the pier on Monday 21 November between 18:30 – 20:00. Members of the public are invited to come and meet the team and find out more about the future of River Bus services from this historic pier. Find out more information and reserve your free attendance.
About Uber Boat by Thames Clippers
Uber Boat by Thames Clippers is the leading River Bus service on the River Thames, serving 24 piers across the capital. Services run at 10–20-minute intervals between key London piers including North Greenwich for The O2, Greenwich, Canary Wharf, Tower, London Bridge City, Westminster, and London Eye (Waterloo), as well as several residential piers, including Battersea Power Station Pier and now Barking Riverside Pier.
Uber Boat by Thames Clippers operates a modern and fuel-efficient fleet of high-speed catamarans. For over 20 years the business has been at the forefront of innovation for the river marine sector and is committed to supporting the sustainable growth of infrastructure and economic development on and around the river to ensure its long-term importance to Greater London. In order to find viable sustainable options, the business continues to break new ground and invest in trials and the development of technology, including seeking and winning Department for Transport funding to drive for a greener marine future, particularly focused on the development of hybrid and hydrogen-powered vessels.
A ticketing partnership with Uber launched in 2020 and encourages more people to enjoy travel by boat around the city, helping to link travel by river and road, all through the Uber app.