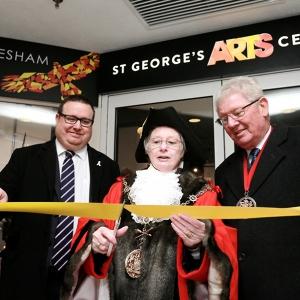 Our new centre will be a home to exhibitions and creative projects and will provide working space for local creative businesses and a meeting place for local residents.
We have opened a new centre for the arts and creative industries in the heart of Gravesend.
The St George's Arts Centre will be a home to exhibitions and creative projects and will provide working space for local creative businesses and a meeting place for local residents.
It has exhibition space for 2D and 3D works including digital installations, and there will also be workshop and drop in events to meet artists and enjoy a coffee and snack whilst viewing the exhibitions.
It was opened by the Mayor of Gravesham, Cllr Lyn Milner, and Cllr Shane Mochrie-Cox, our Cabinet Member for Community and Leisure, on Saturday (11 December) at St George's shopping centre.
"This new centre is a hub for the whole Borough," said Cllr Mochrie-Cox. "We have such an active creative community in Gravesham and, coupled with St Andrew's Arts Centre, we are creating a true cultural arena for them to thrive and grow in.
"But it's about so much more than creating a base for arts. Cultural-led regeneration has been shown to help create jobs, boost tourism, develop skills, grow community pride, and attract inward investment.
"This is just one step in our long-term arts and cultural commitment to the people of Gravesham, which we set out in Creative Gravesham, our Arts and Culture strategy launched last year.
"This new centre will play a significant role in the future of our town centre."
The first exhibitions at the centre are Lift Off and Twinkle Twinkle, Welcome to the Galaxy of Gravesham.
Twinkle Twinkle is a specially commissioned exhibition by artist Mona Whitton and the community of Gravesham. It features enormous stars made from recycled mirrors and a surrounding galaxy of glass stars to bring the new arts centre to life.
Gravesham's skyline will be picked out in silhouette form to create a magical Christmas experience.
The Lift Off exhibition by Vyberoom is an exciting VR tour of the Milky Way – an interactive ride through space and time based on NASAimagery data.
Cllr Lenny Rolles, Gravesham Borough Council's Cabinet Member for Commercial Services, said the new centre would attract more visitors to the St George's Centre, which in turn could attract new businesses.
"Town centres have changed beyond all recognition in recent years in a process accelerated by the Covid-19 pandemic," said Cllr Rolles.
"What used to work on the High Street five years ago doesn't now and we need imaginative initiatives to drive footfall and make our town centre attractive to businesses both large and small.
"This arts centre will bring extra life to the centre as a whole."
St George's Arts Centre has been made possible by Gravesham Borough Council, part-funded through a £323,204 grant from HM Government, South East Local Enterprise Partnership (SELEP), Kent and Medway Economic Partnership and Kent County Council.
It has been welcomed by the local arts community, with a spokesman for Gravesend Art Group saying: "We are very excited about the prospect of a lively, accessible arts centre in the heart of Gravesend.
"This is just what the local community needs and we are really looking forward to participating in some hands-on events and exhibitions."
South East LEP Chair Christian Brodie said: "We are delighted to have helped fund the St George's Arts Centre in Gravesham. This space will provide opportunities for local creative businesses, bringing new jobs and tourism to the area.
"It is so important to support our creative industries in the wake of the COVID-19 pandemic. This industry was hard-hit, and we know that creative and cultural spaces have great value in driving footfall on our high streets and support the wellbeing of residents and vibrancy of an area."