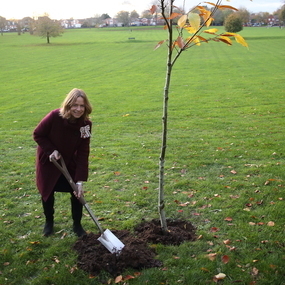 The Lord Lieutenant of Kent Lady Colgrain planted a tree in memory of Queen Elizabeth II during a visit to Gravesham this week.
The tree was planted in Woodlands Park, Gravesend, as part of Gravesham Borough Council's contribution to the Queen's Green Canopy, which has seen 23 trees planted in urban areas around the Borough, all of which are mapped on the official website.
It was planted in mulch made by composting the hundreds of floral tributes left at the statue of Queen Elizabeth in St Andrew's Gardens, Gravesend, following her Majesty's death.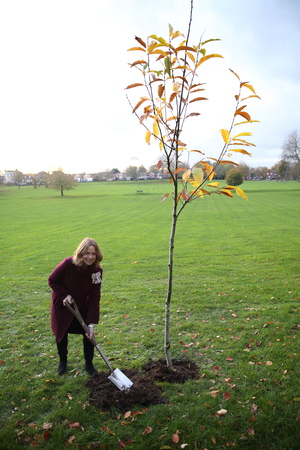 Lady Colgrain also presented the town's Gurdwara with a special gift of a tree from the Tree of Trees sculpture at Buckingham Palace, which featured 350 British native trees and was a centrepiece of the Platinum Jubilee celebrations earlier this year.
Each of the 350 trees has been gifted to selected community groups and organisations around the UK in celebration of their work.
During her day in Gravesham, Lady Colgrain visited the Chantry School in Gravesend, and Prepworld, one of the Borough's biggest employers and which is based at Springhead Enterprise Park, Northfleet.
She also attended a lunch at Gravesend Civic Centre where she met local faith and community leaders.
The visit was hosted by Gravesham Borough Council, whose Chief Executive Stuart Bobby said: "It was a pleasure to be able to introduce Lady Colgrain to so many of the people who work so hard to make this borough the inclusive and tolerant community we know and love.
"Over the course of a long day, I know she was impressed by the way our faith, community, business and education leaders work together for the benefit of all, and the potential that we are working hard to unlock in the borough in terms of regeneration and growth.
"I would like to thank Lady Colgrain for spending so much time learning more about our borough, and for her recognition of so many of those whose important work often goes unsung."