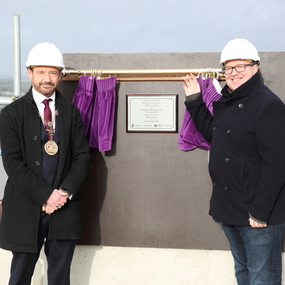 A traditional topping out ceremony has been held to mark the completion of the core build at The Charter development in Gravesend.
The ceremony was conducted by Cllr Peter Scollard, the Mayor of Gravesham, and Cllr Lenny Rolles, Chairman of Rosherville, Gravesham Borough Council's commercial trading company, which is developing The Charter in partnership with Reef Group.
The Charter is a development of 242 apartments, all of which will be available to rent. It also includes a public multi-storey car park.
Unveiling a plaque on the top floor of one of three main buildings on site, Cllr Scollard said: "Historically, a topping out ceremony would see a tree or branch attached to the topmost beam of a structure to mark its completion.
"However, we didn't want to sacrifice a healthy tree, and so have opted for this plaque that can remain here for generations to come to recall this day.
"We can all now look forward to seeing the finished development later next year."
Pete Langley-Smith, Development Director at Reef Group, said: "This is a fantastic marker of another great milestone that we have reached with our partner, Gravesham Borough Council.
"We are really pleased with the pace of the build and look forward to seeing people living in these new homes and enjoying Gravesend town centre."
Cllr Lenny Rolles, who in addition to his position as Chairman of Rosherville is Gravesham Borough Council's Cabinet Member for Commercial Services, said: "The Charter is key to the future of Gravesend.
"When coupled with our plans for the next stage of regeneration at St George's Square, it will see a real shift in the focus of the town to an area closer to the river.
"It will increase the number of people in and around the town centre, boosting both the daytime and night-time economies.
"The completion of the construction phase of the main structures is a significant landmark on the route to the rebirth of our town centre."
Cllr Rolles also said it was important to dispel some myths about The Charter development.
He said: "I keep seeing the same false information being repeated on social media, and that is that the apartments here at The Charter have been built for or sold to any one of a number of London Boroughs for them to use as their own social housing.
"This is simply not true. All 242 homes here will be available to rent on the open market and will be marketed next year, and I hope and expect local people will be at the front of the queue to live here in the heart of their town."
To register your interest in renting an apartment at The Charter, visit Rosherville Services property development.