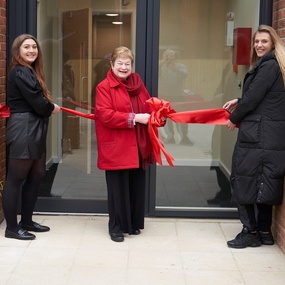 The latest apartments in our programme to build hundreds of new council-owned social homes for residents on the authority's housing register opened in Valley Drive this week.
The flats, which are all offered at affordable rent and have been allocated to residents on the council's housing register, are the first phase of a larger development, which will see a further 32 homes for the over 55s become available later this summer.
With one fully adapted three-bed flat in the first phase, there will be a further four one-bedroom flats suitable for wheelchair users in the second block.
All flats have either a private garden, terrace or balcony and come with courtyard parking.
Opening the development this week, Cllr Jenny Wallace, Gravesham Borough Council's Cabinet Member for Housing Services, said: "As one of the very few local councils to build and own our own social housing, we are acutely aware of the desperate need for more homes of this type.
"We currently have more than 1,000 households on our housing register and waiting for a home, and this is despite having gone through the very difficult process of reviewing that register to ensure those on it are those with the closest links to Gravesham and most in need of housing.
"That is why we are working hard to build new council homes as quickly as we can, and which is why I am delighted to be able to open this first phase at Valley Drive.
"Having met some of the new tenants at the official opening, I know how excited they are about moving into a home they can call their own".
"It's important to us that as many people as possible to have that experience, and we have many, many more new council homes in the pipeline, either being built, such as here at Valley Drive, or going through the planning process."