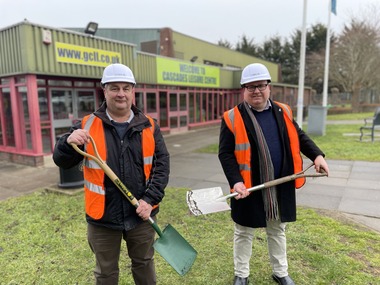 Forward planning has started for the next stage of the project to build a new leisure centre for Gravesham, ushering an exciting new era for sport and recreation in the borough.
With planning permission having been granted for the new centre, which will be built next to and replace the existing Cascades in Thong Lane, Gravesend, attention is now turning to appointing a contactor to build the centre.
Speaking from the site of the new centre, Cllr John Burden, Leader of Gravesham Borough Council, said: "This is a major project for this borough and this council. The next stage will be preparatory work on site ahead of main construction starting.
"In addition to providing family-friendly health and leisure facilities fit for the 21st century, the new centre will be built to the highest possible environmental standards, helping us towards our target of becoming a net zero borough by 2030."
Cllr Burden added that council officers involved in the project had met with counterparts from Exeter City Council which had recently built the UK's first Passivhaus standard leisure centre to understand what technologies and measures could be incorporated into the new Cascades to reduce carbon emissions.
"The current Cascades is the second highest emitter of carbon in the council estate after Gravesend Civic Centre," said Cllr Burden. "To carry out works to counter that would be costly, difficult and extremely disruptive to users of the centre.
"What has been achieved in Exeter shows it is possible to incorporate measures and technologies in a new build that achieve high levels of environmental efficiency, and that is what we aspire to here."
However, Cllr Burden added this would be set against the need to control the budget for the new centre.
He said: "We announced our intention to build a replacement for Cascades in 2020, and it has had funding allocated in our capital budget since then.
"Our intention has always been to finance this project through our own internal resources and borrowing, and with inflation having had an impact on construction costs since 2020, alongside increasing interest rates, we have to be sensible and realistic in managing the budget."
Cllr Shane Mochrie-Cox, the council's Cabinet Member for Community and Leisure, said he was committed to ensuring the new centre reflected what current and future users wanted to see included.
He said: "We have spoken at length with current members at Cascades and the wider community throughout our work on the design of the new centre.
"As a listening council we have followed up on that by adding the fun swimming element and through our long term Sports, Leisure and Active Recreation Strategy ensuring this new offer improves opportunities for both family fun and high level sports.
"Our ambition is for this to be a regional sports centre and we will continue to speak with all interested parties as we start work on site.
"The current Cascades will stay open while the build takes place, and I hope the sight of the new building going up will provide added inspiration and motivation to our current and future users.
"I am confident that through listening to what people want from their leisure centre, our new Cascades will satisfy the needs of both families and the serious and committed sports people of the borough."