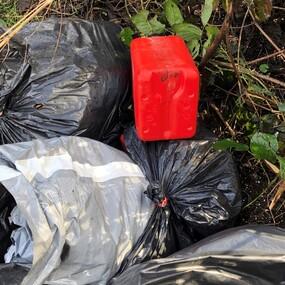 A man has been ordered to pay over £1,000 following a fly tipping offence near Scotlands Lane in Cobham.
Armand Salija appeared at Sevenoaks Magistrates on 9 December following the offence in February 2022.
Salija, from Union Street, Maidstone failed to cooperate with a Gravesham Borough Council investigation and also failed to attend court.
As a result he was found guilty in his absence for an offence under Section 110 of the Environment Act 1995.
Salija was fined £300 and ordered to pay costs of £685. In addition he was ordered to pay a victim surcharge of £34.
If you see someone fly-tipping or would like to report where fly-tipping has taken place, please report flytipping online.
Cllr Shane Mochrie-Cox, Cabinet member for Community and Leisure said:
"We will not tolerate flytipping in Gravesham, and will continue to investigate these offences time and time again. This mindless, selfish behaviour is totally unacceptable and has a hugely negative impact on the natural environment and our rural communities.
"Our Environmental Enforcement Team rely on the support of the public to bring environmental criminals to justice. We ask you to be vigilant when travelling in areas where fly tipping regularly occurs and report any suspicious activity to our team at tipoff@gravesham.gov.uk. Any information will be followed up by an officer and treated in strict confidence."