Solar Together Gravesham
In June 2019, we declared a climate emergency and committed to becoming a carbon neutral borough by 2030. To achieve that ambitious target, we will work with local residents to help them reduce their own carbon footprints.
Solar Together Gravesham is an opportunity for Gravesham residents to group together and invest in solar systems for their homes more cheaply than if they were buying alone.
Solar PV systems absorb natural sunlight and turn it into power for your home, saving you money and helping reduce your carbon output.
Solar panels can help you save money on energy bills, as well as reduce your carbon footprint. You can also choose to install battery storage to help you use more of your generated electricity and an electric vehicle charging point.
Any homeowner, landlord or small business in Kent is able to register. Applications are limited to 50 solar panels per property.
If you already have solar panels installed, you can apply for battery storage to maximise the benefits of your existing solar panel installation.
Register for the scheme
Register for free online with Solar Together
An auction of pre-vetted installers bidding to offer the best deal
You will receive a personal recommendation based on your registration details
You decide if you want to take up the recommendation and proceed with installation (survey pending)
Savings on electricity, after installation you will generate your own renewable electricity.
Planning permission
Solar PV installations are considered a 'permitted development' and will generally not need planning permission. In some cases, such as in conservation areas and on listed buildings, planning permission may be required.
Find advice about planning permission.
Installation
If you apply and accept your recommendation, the supplier will contact you to survey your roof and set an installation date.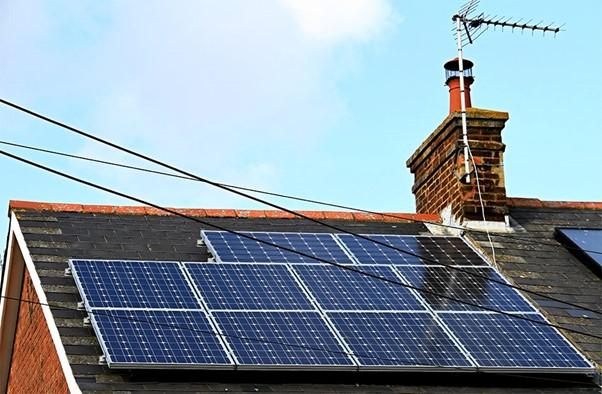 About iChoosr
We are promoting the third phase of Solar Together in Kent to help residents access competitively price, high quality solar installation, from vetted suppliers. We partner with iChoosr, independent experts in group buying who ensure the smooth running of the Solar Together schemes in the UK.
iChoosr performs a number of checks to assess installers' experience, quality and capacity before then can apply to the scheme to ensure a high level of service to our residents. Product and workmanship standards are also set, to guarantee the quality of installation and auditing is carried out by a third party to ensure work has been delivered to expected standards.
Throughout the scheme, the councils and iChoosr will monitor progress and customer satisfaction closely. The previous scheme run in 2022 has seen over 1,300 homes install solar panels and the customer satisfaction ratings are very high.
Get in touch
If you have any questions about new or existing installations you can call Solar Together for free on 0800 014 8721 Monday to Friday 8am to 5pm. You can contact their helpdesk via an online form.